Zak24 Old City Jerusalem Gifts

Zak 24 is one of the few remaining shops in Old City Jerusalem owned by
evangelical born-again Christians on a street mainly filled now with Muslim shops.
Zak and his family maintain a witness for Jesus in a difficult place, but as Arab Christians
and Bible-believing business owners, they operate with biblical integrity, love
and sharing their faith wherever they can. The shop income supports several
Christian families involved and helps provide for a ministry to the poor also.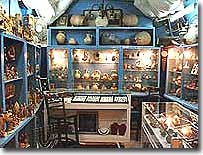 A Peek Inside!

Their prices are as low as you can find in Israel - and he can get things
(including antiquities) that you may not see on the website also
- all shipped to your address.
When you buy from Jerusalem Old City Gifts you are supporting
many Arab Christian families AND the gospel to the Arabs in Israel.

Many Messianic Jewish ministries and Christian ministries endorse this business
and partner together in prayer and relationship with them.




Visit Zak's on the Web
Gift Shop and Antiquities

"Our store is located in the Old City of Jerusalem, Israel.
Zak24 has provided antiquities and gifts for two generations
and has been visited by clients from all over the world.
Our unique location allows us to provide patrons with a comprehensive selection
of wide-ranging merchandise from one of the most fascinating regions of history."
--Zak M.

Zak M. is the manager of Old City Shop and is affiliated
with Alliance Church in Old City, Compassion & Mercy Associates,
and Revive-Israel.


Also featured on the website of Asher Intrater, Revive-Israel http://www.revive-israel.org/





This is the launch of a new sectional focus at Israelprayer.com
to provide connection resources for the Church to link up with the
business, products and arts produced by Israeli believers.
Your support will mean so much!
Please watch this space as we develop our resource pages
for the business, products and arts believers in Israel.